The Infinity Gauntlet #1, July 1991, cover by George Perez
Presenting LORD CHAOS…one of the laziest comic character designs I've ever seen.
These days, it's hard for a story teller to get noticed. There is a sea of information and work gets lost in the shuffle. The question isn't, "How do I make a book?" as much as "Once I make a book how can I get noticed?" Well, in case I haven't asked for your help yet, tell your friends about my books! Wash, rinse, retweet: http://tennapel.com/comics.html

Thank you!

Doug TenNapel 
I can help with that. Please read Doug's comics!

He has the fantastic ability to have his stories blend high concepts with big heart.

Personal favorite is Earthboy Jacobus.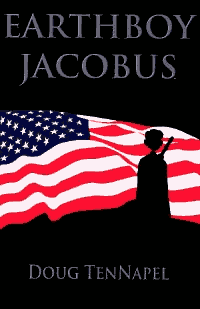 So…Scrooge McDuck visited Manila, Philippines?
Knock Hitler on the chin!
The Teen Titans cartoon had two million viewers. Best-case senario, a comic book will have 100,00 readers.
Wow…and I was just talking about this to someone today.
Dynamite Shows Off New 'Voltron' Comic Series Art


Between Nickelodeon's new Voltron Force animated series and Netflix streaming much of the original show, fans are feasting on some Robeast-slaying action of late. Dynamite Entertainment's been waiting to join the party for awhile, but has finally debuted four pieces of promo art from December's Voltron #1, the first issue of an ongoing series by writer Brandom Thomas and an unannounced interior artist featuring covers from artists including Alex Ross. The series will apparently play in the Voltron: Defender of the Universe animated continuity, although specific story details aren't yet available.


From Dynamite's official press release:

"Voltron is one of the most well-known cartoons of all-time," says Dynamite President Nick Barrucci. "Classic Media and World Events Productions are working with a wide-range of licensing partners to ensure Voltron's success. With the upcoming cartoon and a feature film in the works, now is the perfect time to launch a Voltron comic book for a new era, which will feature amazing Alex Ross covers! Our acquisition of this incredible brand is another step in Dynamite's exciting growth and builds on the ongoing success of our line."

"I grew up loving the big robots from Japan," says legendary artist Alex Ross. "And Voltron is one of the coolest-looking of them!"


See more Voltron images at ComicsAlliance.
Seriously….Alex Ross painting Voltron…never thought I'd live to see the day.